Cathay Pacific devient le deuxième opérateur du gros-porteur A350-1000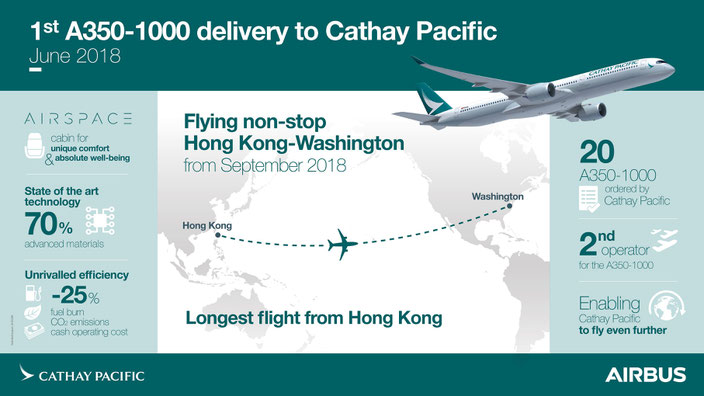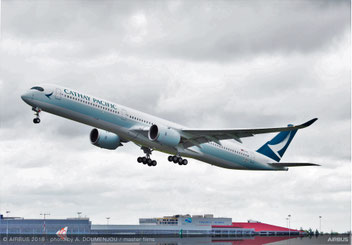 Increased capacity and highest levels of comfort for the airline's longest flights
Cathay Pacific Airways has become the second airline to operate the A350-1000, the world's newest long-range widebody airliner. The airline took delivery of the aircraft at a special event in Toulouse, France.
The aircraft is the first of 20 A350-1000s ordered by Cathay Pacific and will join the carrier's growing fleet of A350 XWB aircraft, which already includes 22 A350-900s. Both aircraft are complementary and provide for maximum commonality with unmatched operating efficiencies, while offering passengers the highest levels of comfort in all classes. Travellers will benefit from absolute well-being in the cabin, with more personal space, optimised cabin altitude, more fresh air, controlled temperature and humidity, integrated connectivity and the latest-generation in-flight entertainment system.
Une capacité supérieure et de meilleurs niveaux de confort pour les vols les plus longs de la compagnie aérienne 
Cathay Pacific Airways est devenue la deuxième compagnie aérienne à exploiter l'A350-1000, le dernier-né des gros-porteurs long-courriers dans le monde. La compagnie aérienne a réceptionné l'appareil à l'occasion d'un événement spécial à Toulouse.
Cet appareil est le premier des 20 A350-1000 commandés par Cathay Pacific. Il rejoindra la flotte A350 XWB du transporteur, qui est en pleine expansion et comprend déjà 22 A350-900. Ces deux appareils sont complémentaires et affichent une similarité maximale et une efficience opérationnelle hors pair tout en offrant aux passagers les meilleurs niveaux de confort dans toutes les classes. Les voyageurs profiteront d'un bien-être absolu dans la cabine, avec notamment davantage d'espace personnel, une altitude cabine optimisée, un meilleur renouvellement de l'air, une température et une humidité contrôlées, une connectivité intégrée et un système de divertissement en vol de dernière génération.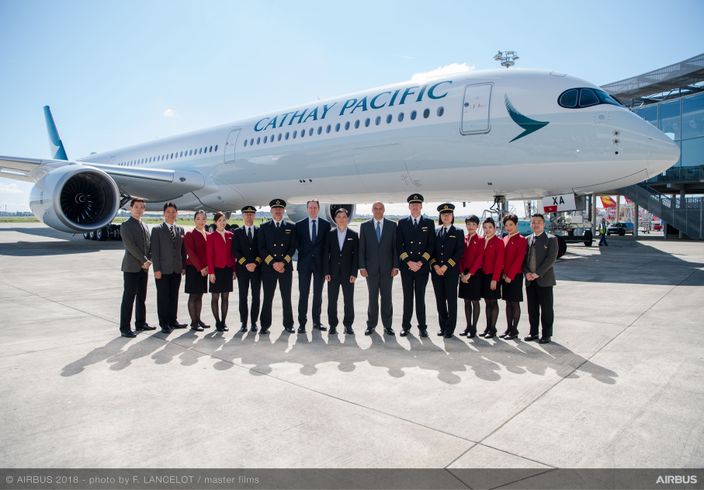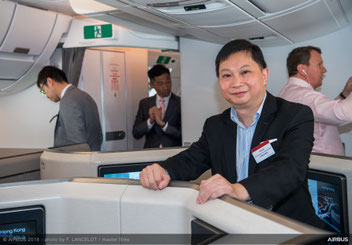 With its true long-range capability, the A350-1000 will form an important part of Cathay Pacific long-haul operations. The aircraft will be deployed on the airline's new non-stop route from Hong Kong to Washington D.C., representing the longest flight – approximately 17 hours – performed by any airline out of Hong Kong.
Paul Loo, Cathay Pacific Chief Customer and Commercial Officer, said: "We already have one of the youngest long-haul fleets in the sky, and with the arrival of the A350-1000, our fleet is only going to get younger. The aircraft follows the successful entry of the A350-900 variant which has enabled us to expand our long-haul network at a near unprecedented rate. The A350-1000 has an incredible range, is remarkably fuel efficient and quiet, provides customers with an unsurpassed cabin environment and has extremely attractive operating economics."
Eric Schulz, Airbus Chief Commercial Officer, said: "We are proud to deliver the A350-1000 to our long-standing customer Cathay Pacific. Bringing major advantages in fuel and cost efficiency along with unrivalled passenger comfort, the A350-1000 is the perfect platform for Cathay Pacific to increase capacity on some of its longest routes. The combination of the world's newest widebody and Cathay Pacific's world famous in-flight service will ensure that the airline can strengthen its position even further as one of the world's leading international carriers."
Grâce à sa véritable capacité long-courrier, l'A350-1000 représentera une partie importante des activités long-courriers de Cathay Pacific. L'appareil sera déployé sur la nouvelle ligne sans escale de la compagnie aérienne, qui relie Hong Kong à Washington DC, ce qui constitue le vol le plus long (environ 17 heures) jamais effectué par une compagnie aérienne au départ de Hong Kong.
"Nous avons déjà l'une des flottes long-courriers les plus récentes dans le monde. Avec l'A350-1000, notre flotte ne fera que rajeunir.  L'arrivée de cet appareil fait suite à la mise en service réussie de la variante A350-900 qui nous a permis d'élargir notre réseau long-courrier à un rythme quasi sans précédent. L'A350-1000 affiche un rayon d'action incroyable, il est extrêmement économe en carburant et très silencieux, il offre aux clients un environnement en cabine sans égal et sa rentabilité opérationnelle est très attrayante", a déclaré Paul Loo, Chief Customer & Commercial Officer de Cathay Pacific.
"Nous sommes fiers de livrer l'A350-1000 à notre client de longue date, Cathay Pacific. L'A350-1000 offre des avantages majeurs en termes de consommation de carburant et de coût d'exploitation, ainsi qu'un confort inégalé, qui en font la plate-forme idéale pour permettre à Cathay Pacific de développer sa capacité sur ses lignes les plus longues. L'association entre le dernier-né des gros-porteurs dans le monde et les services en vol de renommée mondiale de Cathay Pacific permettra à la compagnie aérienne de renforcer encore davantage sa place parmi les principaux transporteurs internationaux", a déclaré Eric Schulz, Chief Commercial Officer d'Airbus.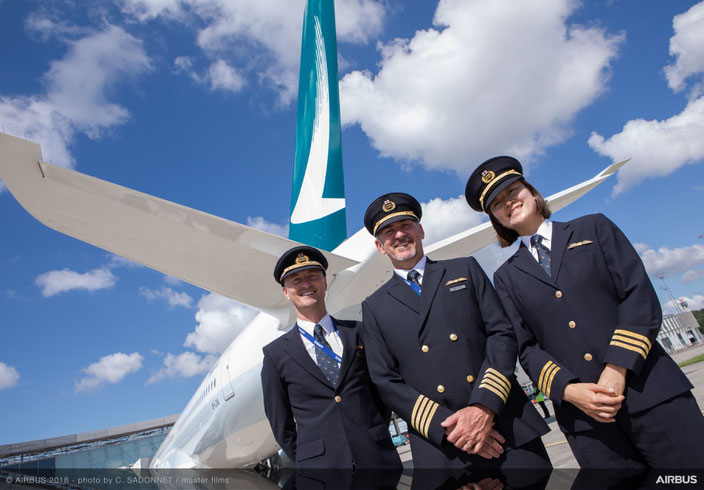 The A350-1000 is the latest member of Airbus' leading widebody family, showing high level of commonality with the A350-900 with 95 percent common systems part numbers and the same Type Rating. As well as having a longer fuselage to accommodate 40 percent larger premium area (compared to the A350-900), the A350-1000 also features a modified wing trailing edge, new six-wheel main landing gears and more powerful Rolls-Royce Trent XWB-97 engines. Along with the A350-900, the A350-1000 is shaping the future of air travel by offering unprecedented levels of efficiency and unrivalled comfort in its 'Airspace' cabin. With its additional capacity, the A350-1000 is perfectly tailored for some of the busiest long-haul routes. To date, 11 customers from five continents have ordered a total of 168 A350-1000s.
L'A350-1000 est le tout dernier membre de la famille plébiscitée des gros-porteurs d'Airbus et affiche un niveau élevé de similarité avec l'A350-900, notamment 95 % au niveau des références des pièces systèmes, et une Qualification de Type identique. Outre un fuselage plus long qui lui permet d'agrandir de 40 % la zone premium (par rapport à l'A350-900), l'A350-1000 est également équipé d'un bord de fuite modifié sur la voilure, de nouveaux trains d'atterrissage principaux à six roues et de moteurs Trent XWB-97 de Rolls-Royce plus puissants. À l'instar de l'A350-900, l'A350-1000 contribue à façonner l'avenir du transport aérien, offrant des niveaux de rentabilité sans précédent et un confort inégalé grâce à sa cabine 'Airspace'. Sa capacité supplémentaire en fait le parfait appareil pour nos clients sur certaines des lignes long-courriers les plus fréquentées. À ce jour, Airbus a enregistré un total de 168 commandes d'A350-1000 émanant de 11 clients répartis sur cinq continents. 
Press release AIRBUS
Photos  AIRBUS