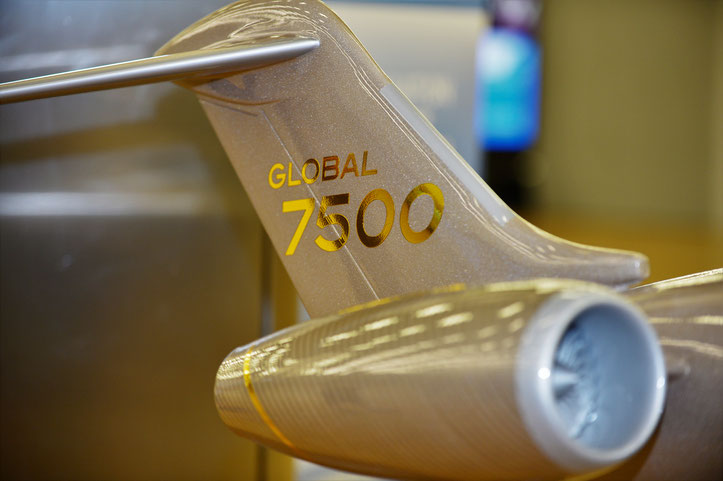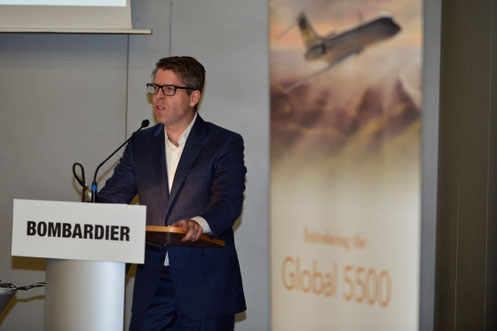 Mr BRAD NOLEN (BOMBARDIER)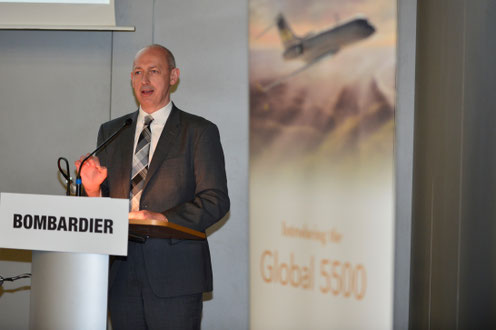 Mr STEPHEN Mc CULLOUGH (BOMBARDIER)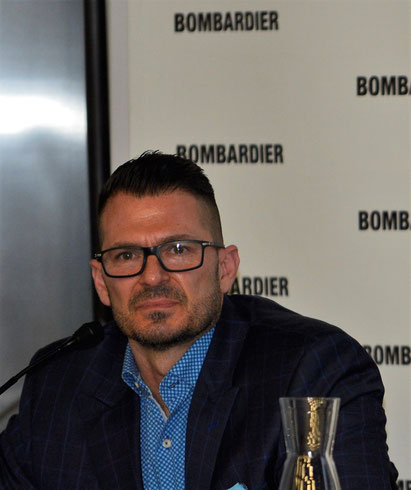 Mr DAVID COLEAL (BOMBARDIER)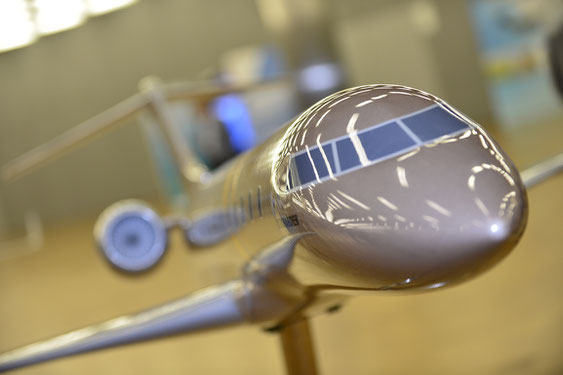 May 28, 2018 Geneva
Business Aircraft,  Press Release
Global 7500 aircraft
Low Resolution (78 KB)High Resolution (38 MB)
Eagerly awaited marquis business jet will enter service as the Global 7500, to celebrate its outstanding performance and its position as the flagship of the new Global aircraft family
In addition to its unsurpassed range of 7,700 nautical miles, the Global 7500 aircraft has exceeded takeoff and landing performance commitments
More than 2,000 hours of flight testing have successfully been completed as well as all major structural testing, ahead of certification
The class-defining aircraft is on track to enter service in second half of 2018
Geneva, May 28, 2018 – Bombardier is proud to announce that its class-defining business jet, which is surpassing commitments during flight testing, will now be known as the Global 7500 aircraft, in concert with the recent unveiling of the new Global 5500 and Global 6500 aircraft.
"Our Global family of aircraft is entering a new era, with the Global 7500 aircraft as its flagship," said David Coleal, President, Bombardier Business Aircraft. "The market's largest and longest range business jet will soon be joined by our newest additions, the Global 5500 and Global 6500 aircraft, reinforcing the fact that our Global family is, by far, the best large-cabin aircraft family in business aviation."
The Global 7500 aircraft is on track to enter service during the second half of 2018. All five of its test vehicles are in the flight test program, with more than 2,000 hours of flight testing accomplished, demonstrating significant maturity, reliability and a smooth ride.
Bombardier recently revealed that the Global 7500 aircraft boasts an unmatched range of 7,700 nautical miles, a full 300 nautical miles further than initial commitments. It is the only business aircraft that can connect New York to Hong Kong, and Singapore to San Francisco, nonstop.* Today, Bombardier is proud to announce further performance enhancements, which, like the range extension, will come at no additional cost to customers.
Thanks to its sophisticated wing design, rigorously tested during the flight validation program, the Global 7500 aircraft has also exceeded takeoff and landing performance commitments, leading to a new published takeoff distance of 5,800 feet at full fuel in standard operating conditions. This improved takeoff performance distance is almost 500 feet shorter than the closest, and much smaller, competitor aircraft and enables the Global 7500 aircraft to access airports with shorter runways.
The landing performance of the Global 7500 aircraft has also been improved -- now rivalling the stopping distance of aircraft in the Light jet category -- and with the low-speed aerodynamics of its wing, the aircraft can land effortlessly in steep approach air fields, such as London City. Thanks to the superior wing design on the Global 7500 aircraft, customers will now enjoy class-leading takeoff and landing performance, a maximum cruise speed of M 0.925 and a uniquely smooth ride.
The Global 7500 program's innovative and industry-leading ground testing, combined with the extensive use of proven engineering tools and simulation, allowed for a very mature aircraft at the start of flight testing and an efficient flight validation program. Full-scale structural testing of the aircraft was successfully concluded on the Complete Airframe Static Test (CAST). Full-scale fatigue testing is also executing per plan, and Bombardier has successfully completed one lifetime of simulated flights, which exceeds the requirements at time of certification.
"The rigour and innovation behind our Global 7500 aircraft design and test program have allowed us to deliver enhanced performance without compromise," said Stephen McCullough, Bombardier's Vice President of Integrated Product Development for the Global 7500 and Global 8000 Program. "Thanks to our innovative designs, coupled with extensive and unprecedented use of integrated ground test rigs and simulators, our flight test vehicles have shown maturity and performance that surpass our initial commitments."
Upon entry into service, the Global 7500 aircraft will offer spaciousness that is unique among business jets, with a full-size kitchen and four true living spaces. The Global 7500 aircraft also debuts Bombardier's patented Nuage seat, which was meticulously designed for maximum comfort and will be exclusive to the new Global family of aircraft.
Bombardier's Global 7500 aircraft is the recipient of a 2018 Red Dot Award for Product Design.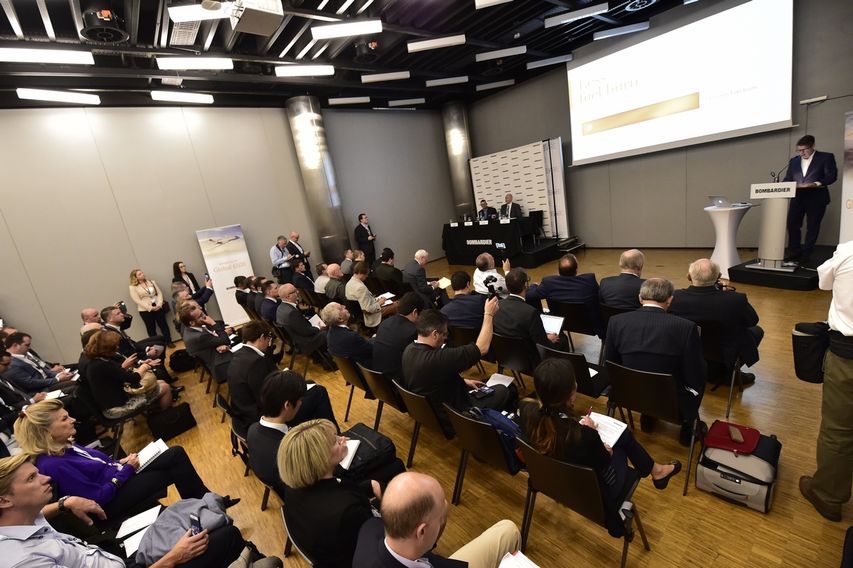 Bombardier Expands Global Business Aircraft with Launch of Global 5500 and Global 6500 AircraftMay 27, 2018 Geneva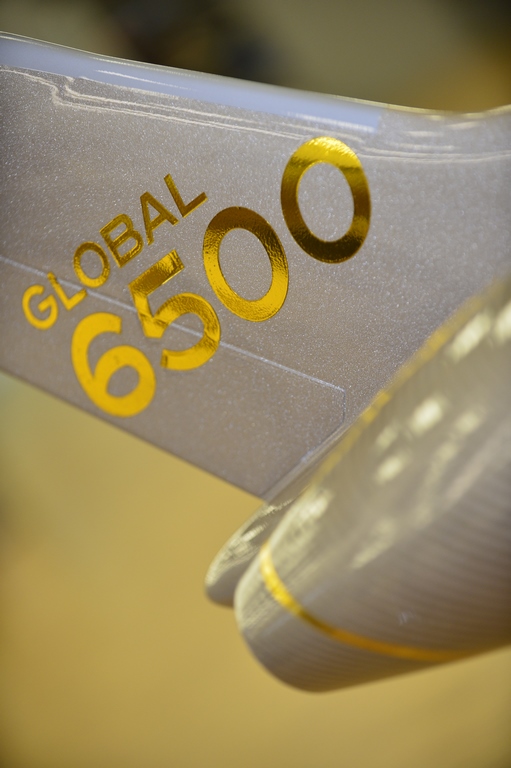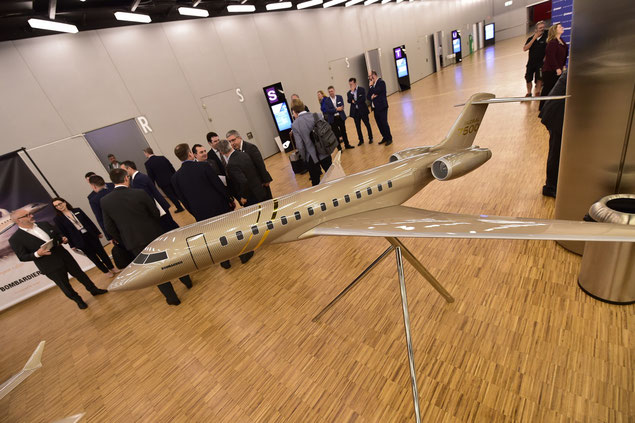 Bombardier's Global 5500 and Global 6500 aircraft offer the smoothest flight, the most spacious cabins and the greatest range in their class.
With a new generation wing and an entirely new Rolls-Royce engine, these planes fly farther and faster and deliver unmatched total performance
Designed around Bombardier's patented Nuage seats, the Global 5500 and Global 6500 spacious cabins offer unprecedented levels of innovation and comfort
Global 5500 and Global 6500 aircraft will enter service at the end of 2019
Bombardier Business Aircraft is proud to unveil two additions to its fleet of business jets: the Global 5500 and Global 6500 aircraft, with ranges of 5,700 and 6,600 nautical miles, respectively, placing them at the top of their category, maximum speeds of Mach 0.90 and Bombardier's smooth flying technology.
"Bombardier's two newest Global aircraft are the result of our uncompromising commitment to innovation, excellence and, above all, our commitment to delivering unparalleled capabilities to our customers," said David Coleal, President, Bombardier Business Aircraft. "This new generation of performance comes from the winning DNA of our Global aircraft lineup, now further enhanced by a newly optimized wing, a completely redesigned cab and new, specially built engines. "
The Global 5500 and Global 6500 aircraft join the industry's best wide-body aircraft lineup and build on the success of the Global 5000 and Global 6000 aircraft and the unrivaled business jet, the Global aircraft. 7000. These new aircraft offer respectively 500 and 600 nautical miles of additional range, combined with a fuel consumption advantage of up to 13 percent. This contributes to very favorable operating costs compared to smaller competing aircraft with reduced autonomy.
Bringing total performance to new heights, these aircraft have an increase in range of up to 1,300 nautical miles when operating in hot weather at high-altitude airports, thanks to increased thrust and increased airspeed. better fuel efficiency. Compared to their nearest competitors, these planes are also more agile in their ability to access airports inaccessible to others, such as London-City.
The specially built Pearl engines by Rolls-Royce and a new wing profile make the Global 5500 and Global 6500 aircraft cleaner and more efficient.
The Global 5500 aircraft can connect São Paulo and Paris, as well as Moscow and Los Angeles; the Global 6500 aircraft can connect Hong Kong or Singapore and London, as well as Toluca and Madrid.
Passengers will benefit from this unmatched performance in absolute comfort, benefiting from Bombardier's iconic, iconic flight, an ultra-high-resolution entertainment system, and secure luggage access at all times.
The redesigned cabins of these aircraft are as stunning as any other renowned Global cabin, with exclusive features as innovative as they are luxurious.
Bombardier is honored to announce that the Global 5500 and Global 6500 aircraft will feature the patented Nuage Wheelchair, the first new business aviation seating architecture in over 30 years. The Cloud Chair, with exclusive technologies designed for maximum comfort and effortless movement, is ideal for long flights.
Another additional innovation is offered on the Global 5500 and Global 6500 aircraft: the Nuage chaise-longue, which adds new dimensions to the meeting area. This chaise lounge chair converts to a flat surface for sleeping or sitting around the table.
The world-class Bombardier Vision flight deck on these aircraft introduces the first truly business aviation combined vision system - the only system to seamlessly merge advanced images and synthetic images into a single display.
The Global 5500 and Global 6500 aircraft have operating costs that rival those of any other aircraft in their class. In addition, they are equipped with integrated redundancy and robustness systems that have made Bombardier Global aircraft famous.
The launch of two new Global aircraft is a carefully targeted and planned investment that further diversifies Bombardier's business jet portfolio, which will support Bombardier's successful five-year transformation and contribute to the company's 2020 goals.