---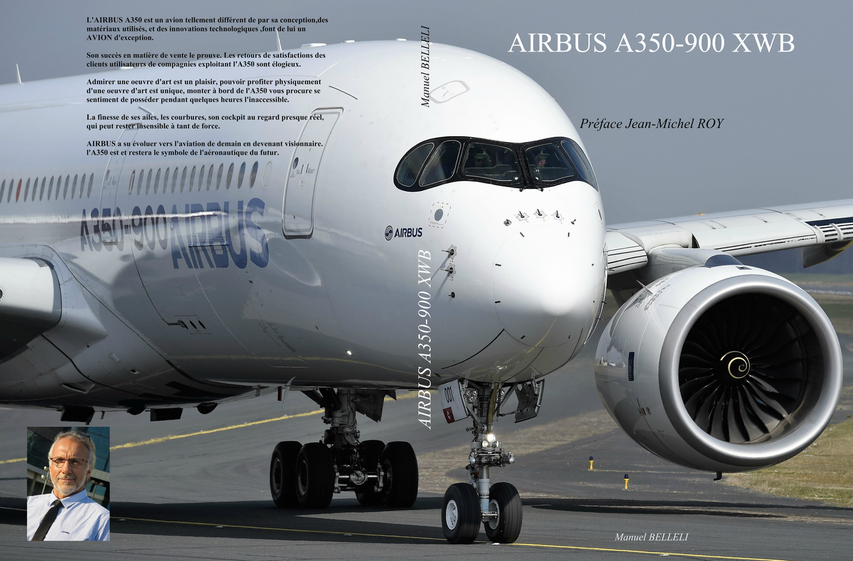 Flying echo se présente sous trois formes, la version magazine mensuelle , la version livre reliés ,et plus récemment le BLOG.
                                              Voici une présentation de mes livres  reliés.
Ce livre est dédié à l'AIRBUS A350-900, Mr JEAN MICHEL ROY Pilote d'essais a bien voulu m'en faire la préface.
L'AIRBUS A350 est un avion tellement différent de par sa conception,des matériaux utilisés, et des innovations technologiques ,font de lui un AVION d'exception.
Son succès en matière de vente le prouve. Les retours de satisfactions des clients utilisateurs de compagnies exploitant l'A350 sont élogieux.
Admirer une oeuvre d'art est un plaisir, pouvoir profiter physiquement d'une oeuvre d'art est unique, monter à bord de l'A350 vous procure se sentiment de posséder pendant quelques heures l'inaccessible.
La finesse de ses ailes, les courbures, son cockpit au regard presque réel, qui peut rester insensible à tant de force.
 AIRBUS a su évoluer vers l'aviation de demain en devenant visionnaire. l'A350 est et restera le symbole de l'aéronautique du futur.
This one is dedicated to the AIRBUS A350-900, Mr JEAN MICHEL ROY pilot of tests was kind enough to make me the preface.
The AIRBUS A350 is a plane so different in design, materials used, and technological innovations, make him an exceptional aircraft.
His success in sales proves it. The feedback from customer customers of companies using the A350 is commendable.
Admiring a work of art is a pleasure, being physically able to enjoy a work of art is unique, boarding the A350 gives you the feeling of owning the inaccessible for a few hours.
The delicacy of its wings, the curvatures, its almost real-looking cockpit, which can remain insensitive to so much force.
                                                                            ------------------
---
Quatre couvertures de livres sur l'A350 ,tout d'abord en haut a gauche celui de la livraison du tout premier A350-900 à une compagnie cliente (QATAR AIRWAYS) ,en bas à gauche la livraison du premier A350 du continent asiatique (VIETNAM AIRLINES), en haut a droite un livre sur la DELTA AIR LINES qui a choisit l'A350  comme vaisseau amiral en terre BOEING.
En bas a droite  l'arrivée du tout premier A350 LUFTHANSA (MUNICH AIRPORT).
Four covers of books on the A350, first on the top left of the delivery of the very first A350-900 to a client company (QATAR AIRWAYS), bottom left the delivery of the first A350 of the Asian continent (VIETNAM AIRLINES), at the top right is a book on the DELTA AIR LINES that chose the A350 as the flagship BOEING.Bottom right is the arrival of the very first A350 LUFTHANSA (MUNICH AIRPORT).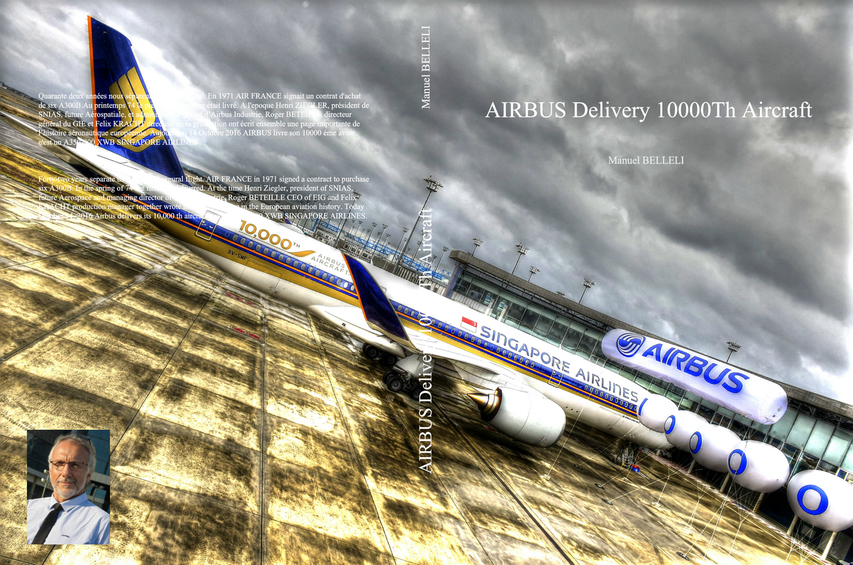 Toujours consacré a l'AIRBUS A350 , mais celui ci a la particularité d'être la dix millième livraison d'Airbus, le hasard a voulu que ce soit pour la SINGAPORE AIRLINES .
Quarante deux ans nous séparent du vol inaugural. En 1971 AIR FRANCE signe un contrat d'achat de six A300B.Au printemps 74 le premier exemplaire était livré. A l'époque Henri ZIEGLER, président de SNIAS, futur Aérospatiale et administrateur-gérant d'Airbus Industrie, Roger BETEILLE directeur général du GIE et Félix KRACHT directeur de la production ont écrit ensemble une page importante de l'histoire aéronautique européenne. Aujourd'hui 14 Octobre 2016 AIRBUS livre son 10000 éme avion, c'est un A350-900 XWB SINGAPORE AIRLINES.
 Forty-two years separate us from the maiden flight. In 1971 AIR FRANCE signed a contract to purchase six A300Bs. In spring 74 the first copy was delivered. At the time Henri ZIEGLER, president of SNIAS, future Aerospace and managing director of Airbus Industrie, Roger BETEILLE general director of the GIE and Félix KRACHT director of production together wrote an important page in the European aeronautical history. Today October 14, 2016 AIRBUS delivers its 10,000th plane, it is an A350-900 XWB SINGAPORE AIRLINES.
La gamme A350  s'étoffe  avec l'arrivée de lA350-1000  , le fuselage a gagner 7 mètres de plus en longueur , et de nombreuses innovations techniques .
Voici deux livres , le premier est consacré a  ce que l'on appelle le FIRST FLIGHT (premier vol)
le second montre les trois A350-1000  d'essais (Le premier A350-1000, le MSN 59, est utilisé pour réaliser des tests de comportement de l'avion dans son domaine de vol, vol à différentes masses, et le freinage. Le N°2 MSN 65 est équipé d'une cabine pour évaluer les systèmes cabine et circuits d'air. Le N°3 MSN 71: performances de l'appareil aux tests des moyens de freinage, de la motorisation, des systèmes de bord ,et le pilote automatique.
The A350 range expands with the arrival of the A350-1000, the fuselage has gained 7 meters more in length, and many technical innovations.
Here are two books, the first is dedicated to what is called FIRST FLIGHT (first flight)
the second shows the three A350-1000s of tests (The first A350-1000, the MSN 59, is used to perform behavior tests of the aircraft in its flight range, flight to different masses, and braking. No. 2 MSN 65 is equipped with a cabin to evaluate the cabin and air systems .. No. 3 MSN 71: performance of the device to the tests of the braking means, the engine, the aircraft systems, and the autopilot.
---